California
Los Angeles, Sacramento and Bay Area Pot Activities, 420 Services & Kind Lodging
Explore our cannabis friendly activities and destinations in
California
Being the first state to pass Medical Marijuana in 1999, California was a favorite in being the first to legalize recreational in 2010. However, fate would have it that a rec law would not be passed until prop 64 in 2016. Although Washington, Oregon and Colorado all got the jump on the The Golden State, it's long and sometimes jaded history with Cannabis dating back to the 1960's has California poised to be a leader in Cannabis tourism.
A Higher
California
Experience
California
Classes and Activities
Come get twisted with the crew from Puff, Pass & Paint and California Cannabis Tours.
You haven't appreciated California until you've tried some real Cali grown cannabis and with California Cannabis Tours, the Golden State's best and blazingest marijuana friendly tourism company, you'll get the most fun and fullest cannabis-infused experience. In our Puff, Pass classes you will have your chance to get wrist deep in the creative process while chiefing on some of the dankest green you've ever seen.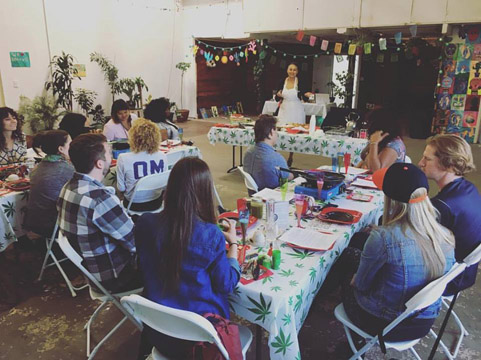 Classes and Activities • Bay Area
Puff, Pass and Pastry
Oakland's 2 ½ hour baking and cooking with cannabis class is led by one of our superb company chefs. Smoke a legal joint (or two) while on this one of a kind culinary journey in the San Francisco Bay Area as Chef details several ways to in...
Classes and Activities • Oakland
Puff, Pass and Paint!
Puff Pass & Paint is the premiere 420-friendly painting class in the Oakland. Get creative, free of judgement, while consuming the best California Cannabis. Great for a unique date night or a Bay Area bac...
Classes and Activities • Oakland
Puff, Pass and Pottery
Cannabis Tours in Oakland, California proudly presents Puff, Pass & POTtery, a 420 friendly pottery class here in the Bay Area. For 2 hours our local staff will ...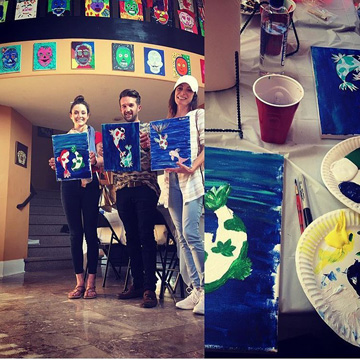 Classes and Activities •
Puff, Pass and Paint!
Puff Pass & Paint is a 420-friendly painting class in Los Angeles. Take your creative side even higher in our fun, experimental space, where guests are encouraged to pass a joint between brush strokes. It can't get any more unique for ...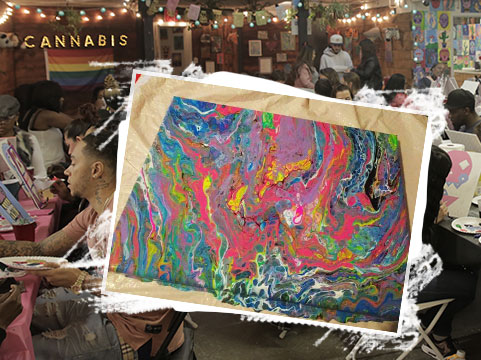 Classes and Activities •
Crafts & Cannabis: Abstract Fluid Painting!
In Los Angeles for our Craft Workshop, Austa will be teaching Abstract Fluid Painting. This is a technique that uses acrylic paint mixed with various additives to create texture with cells and ribbons of color.
Classes and Activities •
Crafts & Cannabis: Mixed Media Collage
This chill mixed media collage Sunday class has an open-studio feel. Come with an idea in mind or easily find some inspiration from your peers. Using various mediums (paint, pencil, markers, magazines, modge podge, glitter) and techniques ...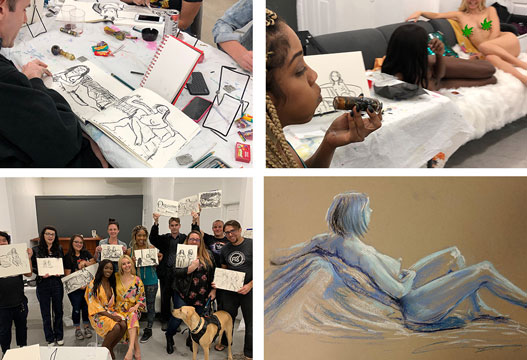 Classes and Activities •
Faded & X-Rated Figure Drawing!
LA's newest creative cannabis class 'Faded & X-Rated: a cannabis-friendly nude figure drawing class'. Join us for a nude figure drawing workshop with some of LA's hottest models. Taught by a trained Puff, Pass & Paint art instructor guests...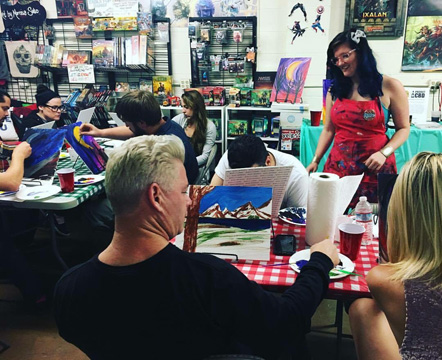 Classes and Activities •
Puff, Pass and Paint!
Puff Pass & Paint is the place to experience a 420 friendly painting class. It's not every day that you smoke a joint in a room filled with like minded people while painting your rendition of a seascape. At Puff Pass & Paint we combine cre...
Your 420 hotel room is an important part of any vacation. We work very closely with our lodging and accommodation partners to bring you the best 420 friendly cannabis hotel rooms and suites in the state of California. Last thing you want is having no place to consume or paying outrageous hotel fees. Check out our variety of 420 friendly smoking and vaping rooms today!
You're never going to want to get off the Cannabis Tours Bus!
California Cannabis Tours has the best marijuana tourism experience in the state. Whether you are in Oakland, Los Angeles or San Francisco, our leading marijuana tours are top notch and provide guests with the chance to toke up while they take in the stoney California sights. You can even join the Oakland Cannabis Creative team on our premiere Weed and Wine tour, which is just what it sounds like, a wine tasting paired with pot smoking.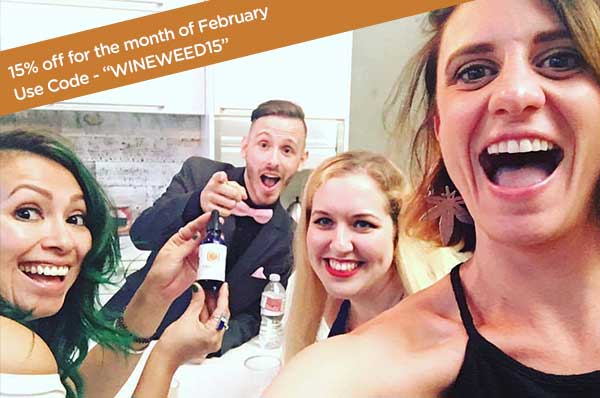 CannaVines: Wine and Weed Tour
For the discerning wine and cannabis consumer comes CannabisTours.com's latest craft experience - Bay Area Wine & Weed Tours!
Join us for a 4-hour tour where you'll smoke, sip, learn, laugh, and experience the best of the Bay Area's unique wine and weed culture.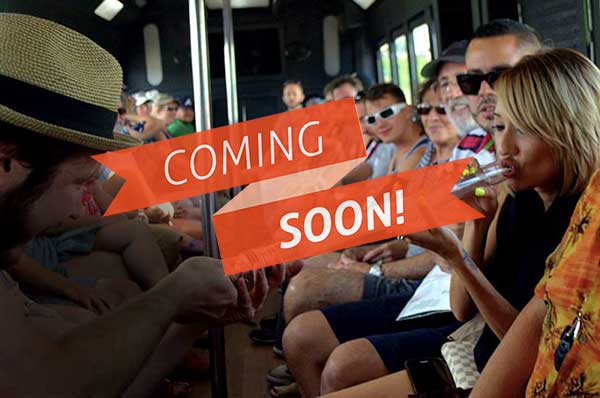 Oaktown Essential Cannabis Tour
Your NorCal cannabis vacation is chalk full of activities, so we created this best of the Bay Area's emerging weed scene. This slimed down essential tours give you an overview of the area and the cannabis scene in a budget friendly package. This 2 and a half hour tour will take you to a marijuana grow, munchies, and a dispensary stop to get all the weed you need. Lots of smoking and dabbing with our guides. Focused on the Oakland Area this tour will start at the Oakland Cannabis Creative where you will start toking in the Bay Areas most unique marijuana activity space.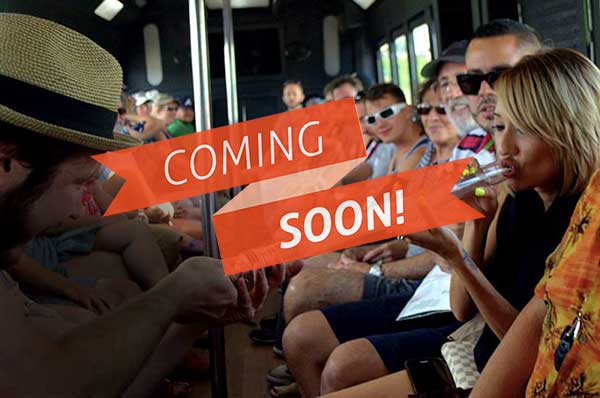 L.A. Essential Cannabis Tour
Your Hollywood marijuana trip is extremely busy with so much to do. We created this Hollywood and Los Angeles essential tour to give you the best cannabis experience in the shortest amount of time. If only we could control LA traffic but lucky for you you'll be toking and smoking it up in our luxurious Cannabis Tours bus.
Concierge and Additional Cannabis Services
Enjoy those California vibes during your stay in The Golden State. California Cannabis Tours works closely with our partner to ensure you have everything needed to thoroughly enjoy your stay. From our 420-friendly lodging partners, our array of classes & activities, to rentals and marijuana related services.
Understanding the Do's and Don'ts of Legal Cannabis in California.

Recreational
Recreational cannabis dispensaries are set to open in January of 2018. Then, anyone over the age of 21 with a valid ID will be allowed to purchase and possess up to one ounce of recreational marijuana at a time for use while in the state of California.

Medical
California has a wealth of medical marijuana dispensaries to pick from. However, to legally enjoy these medical cannabis dispensaries, a person must be a resident of the state and in possession of a California medical marijuana card from a licensed health provider in Cali.

Consumption
In the state of California, it is illegal to use recreational cannabis in public. Medical patients may use cannabis in public, but it is recommended that they carry their medical card if they choose to do so. Presently the only legal place to consume marijuana recreationally in California is on yours or someone else's private property, a house, building or hotel room you've booked through California Cannabis Tours. Use of cannabis in public can carry a fine of up to $250.