Tacos are (OBVIOUSLY) the glue of any healthy diet. They are easy to hold, they are full of good stuff and they are tastier than sin. Everyone has a favorite taco – from the simple ground beef with cheese, lettuce and tomato to the more daring beef tongue taco. There are dozens of taco places in Las Vegas but only eight made our list of bests this time around.
Authentic Tijuana style tacos, in business since 1998. There are actually three separate locations you can find in Las Vegas (and two in California), so you know they are doing something right. This isn't for the weak stomached either – your taco choices are…beyond that of rice, beans and ground beef with cheese. Instead, Tacos El Gordo offer the Cabeza, the Lengua and the Tripa or the head, tongue and guts of the cow. They do have slightly less adventurous entrees, just as delicious but without the guts. We suggest trying the tostadas and suaderos.
Los Tacos goes for the simple, inexpensive taco crowd. They've got tacos (of course), burritos and tortas with your choice of meat, "carne asada, juicy shredded chicken, pork as carnitas, spicy al pastor or buche (fried pig's esophagus), chorizo, beef head or tongue, fish or shrimp." Oysters on a half shell are a popular favorite here, as is the seafood cocktail including shrimp, oyster and octopus. You can also get Horchata here, so, that is a bonus.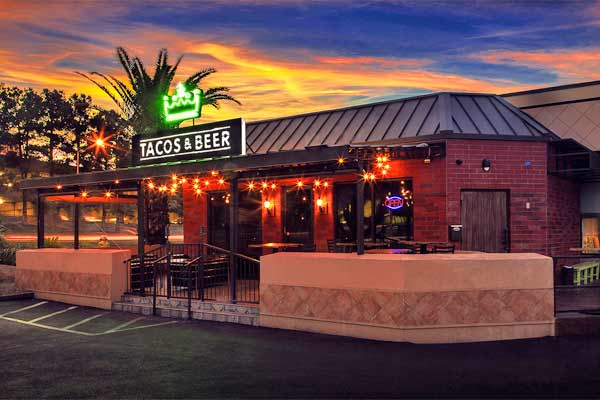 John Simmons is a family man who loves cooking for his young ones at home. Simmons is also a taco man, and thank goodness for that because he has given Las Vegas a brilliant spot called Tacos & Beer. I bet you can't guess what is on the menu. There are 20 beers on their beer list and the rest of the menu is so expansive it is hard to know where to begin. Do NOT miss the dessert here, really, the Choco-Taco and the churros are incredible.
Jefe's has "Monster" tacos, so wear your eatin' pants. Don't worry, they've also got mini tacos if the monsters scare you. They've even got deep fried tacos and taquitos, who doesn't love those? All burritos can be ordered as a bowl and they've got plenty of tortas, quesadillas and tostadas to choose from.
Okay, so presentation isn't necessarily the primary priority at Mi Pueblo Taco Shop. That said, the food is freaking delicious, well portioned and the prices are affordable. The menu is fairly large and you are bound to find something that catches your eye. If you've got kids, try and make it to Mi Pueblo on Tuesday between 2:00 – 4:00 pm because your kiddo will eat for free on that day at that time.

Tacos, rice and beans – oh my. Quesadillas, tortas, flautas and gorditas are also on the menu, because who doesn't like them? There aren't an overwhelming amount of choices here, they know what they like and they focus on making it well. Even the tortillas are fresh and homemade. They've received 12 awards from Yelp, Thrillist, Eater and more since they opened in 2014 with no signs of stopping the greatness anytime soon.
As far as wide-ranging menus go, El Dorado has absurd amounts of food. They've got a ton of tacos including street tacos (pulled chicken, carnitas, al pastor, etc), signature tacos (chile verde pork with chicharron, octopus and chorizo, beef tongue, langostino, etc), plus breakfast, burgers and fajitas. All meat, fish and vegetables are sourced from local, non-gmo farms.

The customers of Hussong's run on mexican food and margaritas. They even claim that the margarita was actually created at their bar in 1941 for Margarita Henkel, the German Ambassador to Mexico's daughter. All of the "original" margaritas served at this bar are hand mixed with fresh ingredients, so it is sure to be one of the best you've ever tasted. Try all three kinds of guac if you're feeling fancy and get the baja style ceviche, extra jalapenos.
Latest posts by Brittany Driver
(see all)